Maple Program Provides Students First-Hand Look At Syrup Production
What began as a single classroom experiment on how to make maple syrup at Springville Elementary School has evolved into a "sweet" learning experience for fifth grade students in the Springville-Griffith Institute Central School District.
Since 2018, the SES 5th grade team has bridged winter and spring by teaching students the rudiments behind making maple syrup.
"We started this by just tapping a few trees, bringing it back and making maple syrup on a turkey fryer on the sidewalk," said Jonathan Chaddock, a fifth grade teacher at the school. "What happened was the kids had such a great time with it and it was such a big hit that we made enough to have a pancake breakfast."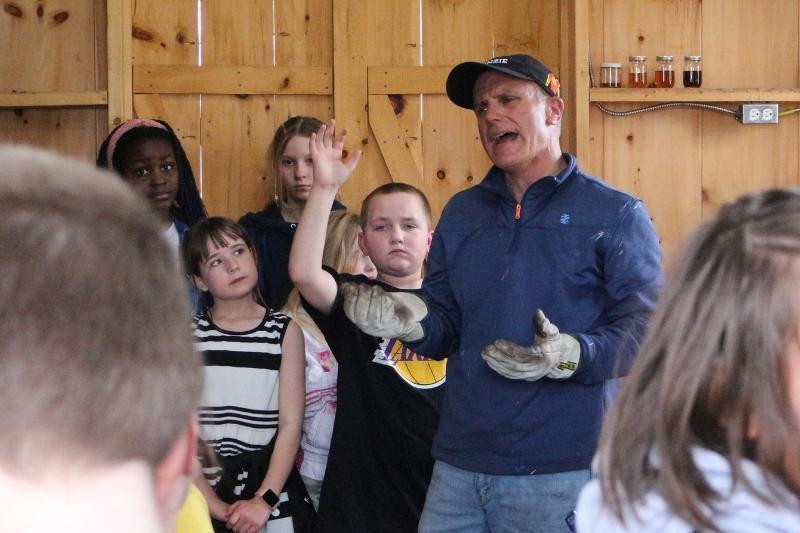 With the project beginning to grow and the SGI administration looking for creative ways to revitalize its curriculum, Chaddock — throwing the idea out there — pitched the idea of building a sugar shack in between the elementary school and bus garage on North Street.
The idea: teach students how to make syrup, produce as many bottles as possible, and sell the finished product internally to raise money for the 5th grade's annual sleepaway camp experience.
"I threw it out there and (former superintendent) Mrs. (Kimberly) Moritz was all in," Chaddock said. "The equipment is a small unit. You make really nice syrup with it, but you can make 30-35 gallons a year with the amount of trees that we have around the school and that we are able to tap."
The shack was built ahead of the 2019-20 school year. However, the COVID-19 pandemic prevented students from taking full advantage of the program until this year. And, even with the short season due to the fluctuation of weather, fifth grade students at SES — who are involved in the entire process except for the boiling – were able to collect over 960 gallons of sap to yield 24 gallons of syrup.
"This has been the first real year that we've been able to involve everybody," Chaddock said. "Last year a lot of the classes came, but it was a little more strict with the number of kids in the shanty. Kids can come in and taste a little now and really get the full experience."
Chaddock handles the boiling — an incredibly delicate process that he learned from his late father-in-law, a Polish immigrant who settled in Allegany County.
"I started learning from him when I was 25," Chaddock said of his father-in-law, Fred Kolakowski. "He had a dairy farm and did this as a way to supplement his income. He had done it since the Great Depression out in Centerville. He took me under his wing and for a long time showed me how to make syrup. As he got older, I took on a bigger role, but he was boiling well into his 90s."
After Kolakowski passed away in 2016, Chaddock, a district teacher for the last 22 years, said he stopped boiling altogether – until he introduced an entirely new generation to the joys of maple sugar season a few years ago.
"Once it gets in your blood, it doesn't leave it," he said. "When springtime comes around, you want to gather a little sap and make a little syrup." '
Check out SGI's feature on WGRZ Channel 2's "Most Buffalo" segment from Friday, April 1.