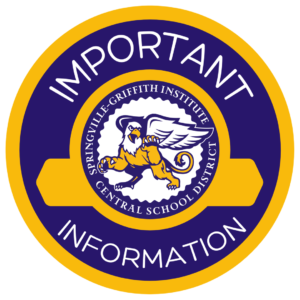 Dear Springville Families,
This correspondence is a follow-up to my recent email regarding the shortened quarantine and isolation periods in schools to five days from ten days. There are three important parts to this letter and each begins with a bold heading. Erie County Department of Health is now allowing for both testing of students who develop Symptoms at School (SaS) as well as testing of in-school close contacts through a Test to Stay (TTS) program. Before getting into the details of each program, the most important thing for everyone to remember is that if your child is ill, please keep them home and communicate the illness to your child's nurse.
Let me say right up front that we WILL NOT test any student without expressed consent from the parent.
The goal of both of our new on-site testing programs is to:
Add an additional layer of mitigation to our already safe learning and work environments.

Maximize the opportunity for in-person learning for all healthy children because of the academic, social and emotional benefits.
We will plan to start the programs below on Thursday, January 20th.
Our main goal has been and continues to be keeping schools open to in-person learning, keeping our students in school and keeping everyone safe. These two testing programs will be an extra layer of mitigation in addition to steps we are already taking. We recognize that you may have questions about the programs above and the associated parameters of each. Please reach out to your child's principal or school nurse. Both will be fully ready to help you understand.
Thank you all for your continued trust, support and partnership.
Sincerely,
James E. Bialasik
Superintendent of Schools
Springville-Griffith Institute CSD