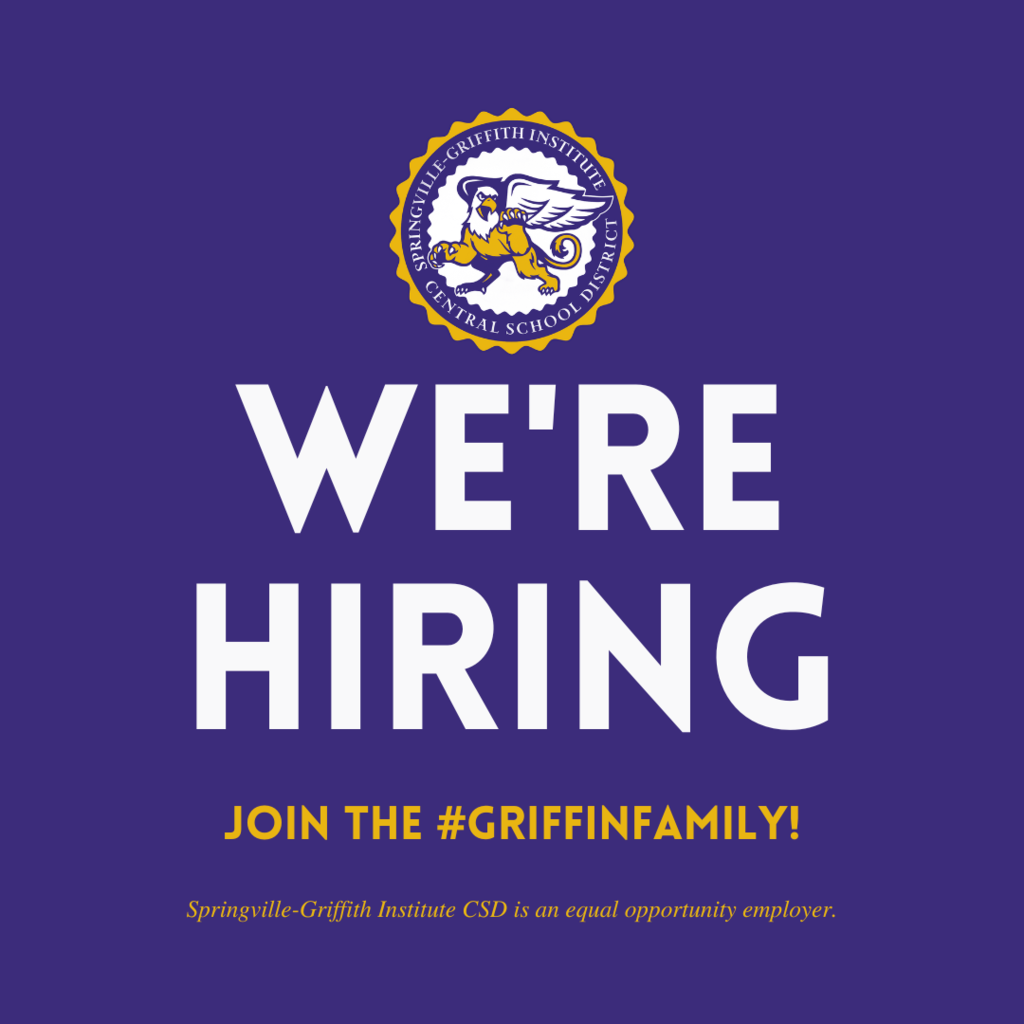 During the SGI Board of Education's organizational meeting on Tuesday, Michele Idzik & Joseph Lowry were sworn in to 3-year terms; Chris Cerrone was elected board president; & Jennifer Sullivan was re-elected vice president. MORE:
https://www.springvillegi.org/article/782150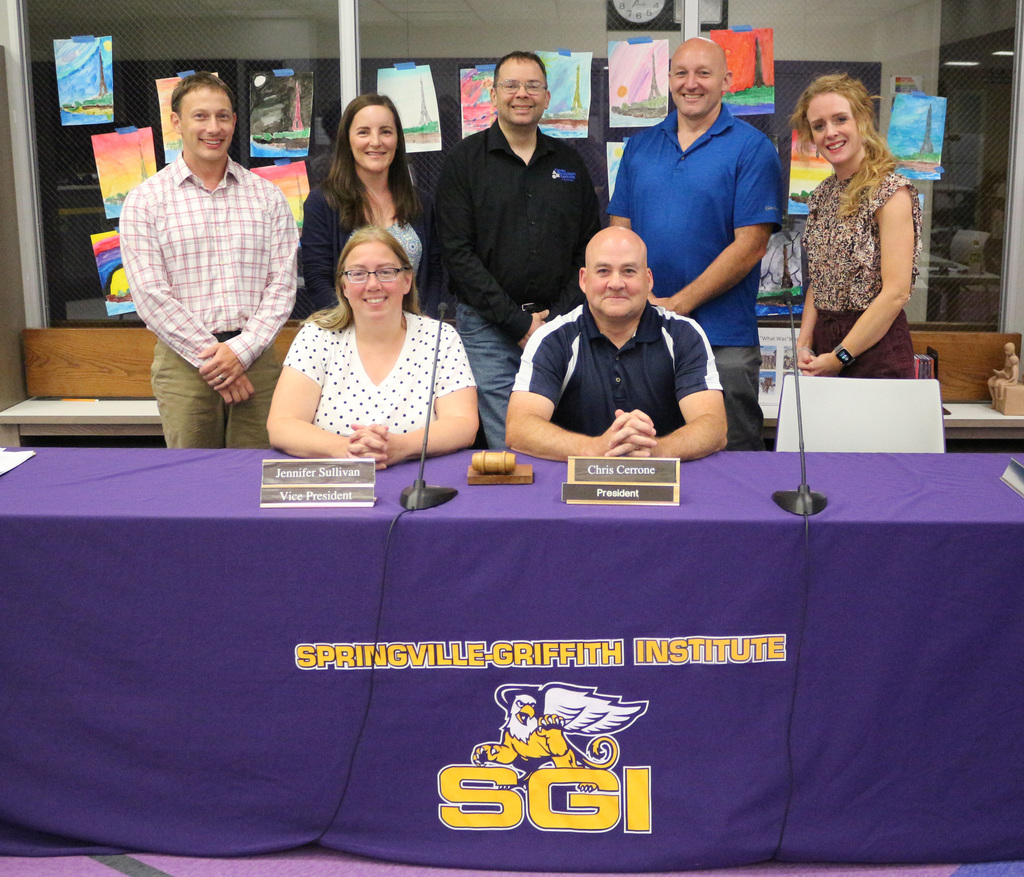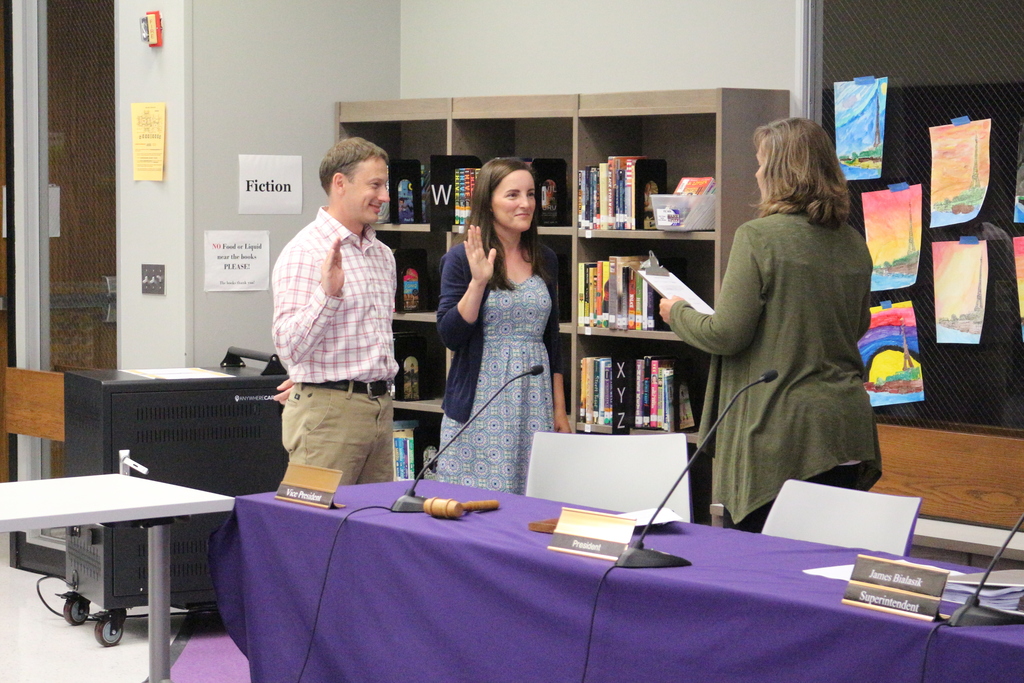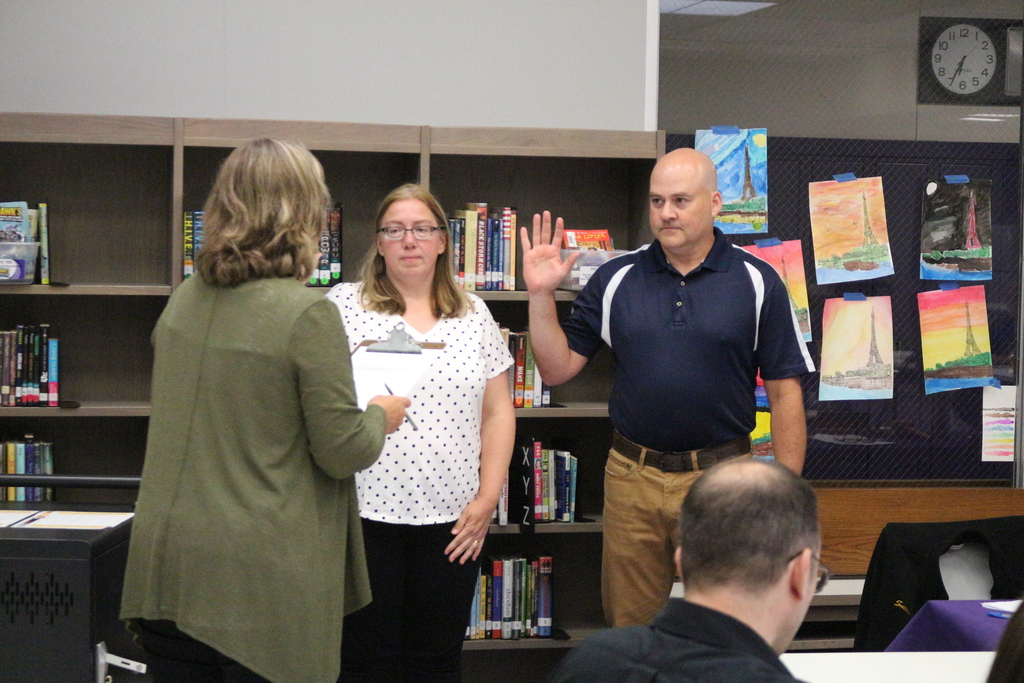 Wishing our #GriffinFamily a safe and happy 4th of July! #RedefiningRural #SGIStrong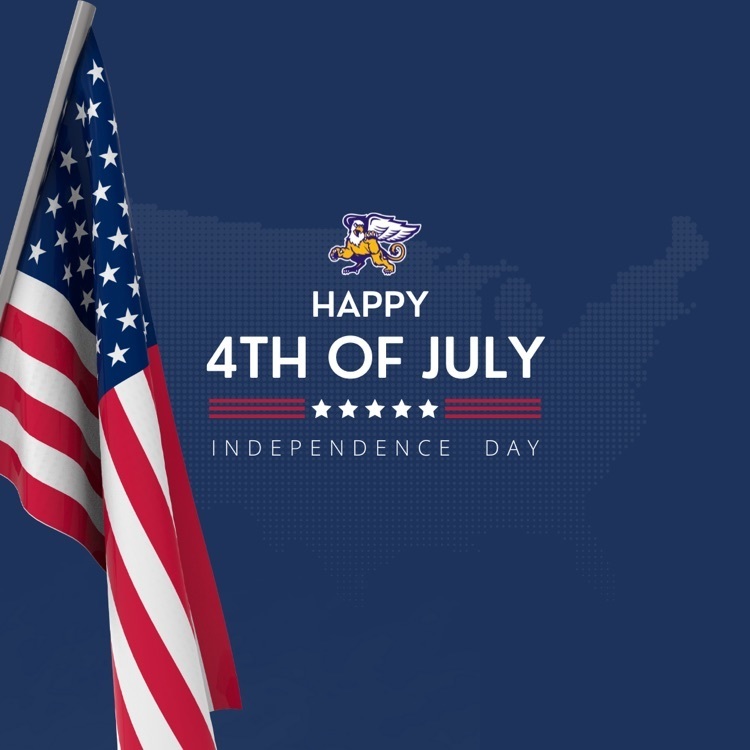 Thanks to ExxonMobil and Reid Petroleum's Educational Alliance, SGI was able to purchase new tablets as part of the alliance's effort to support science, technology, engineering, and math! We are grateful to our community for this support! #RedefiningRural #SGIStrong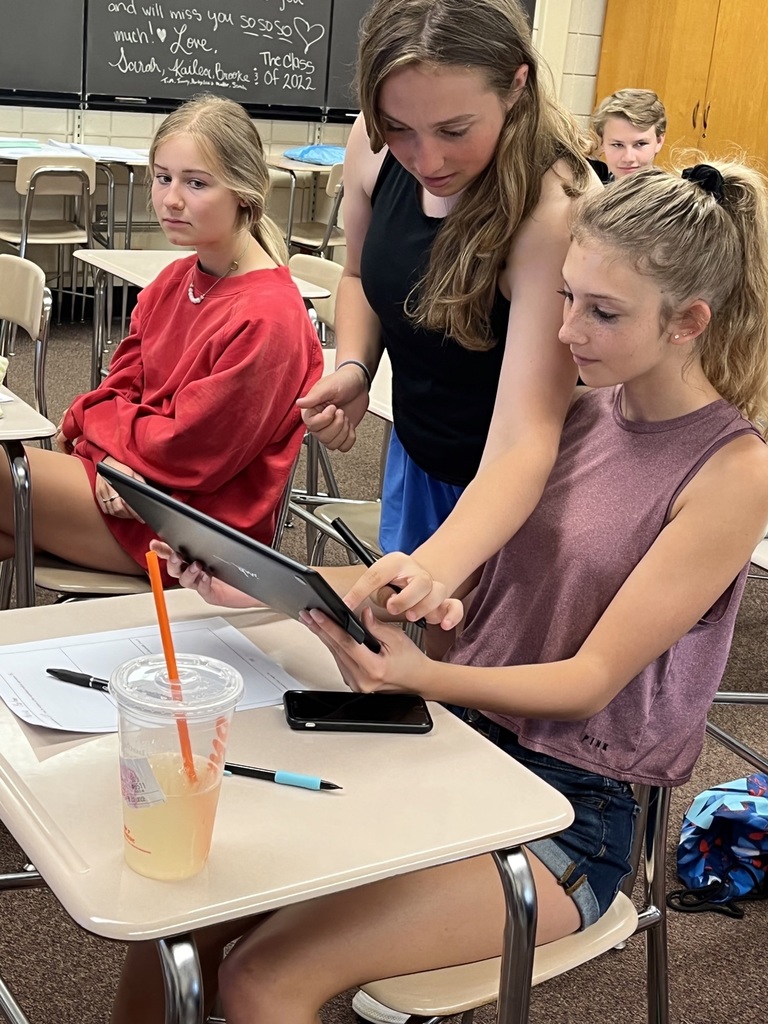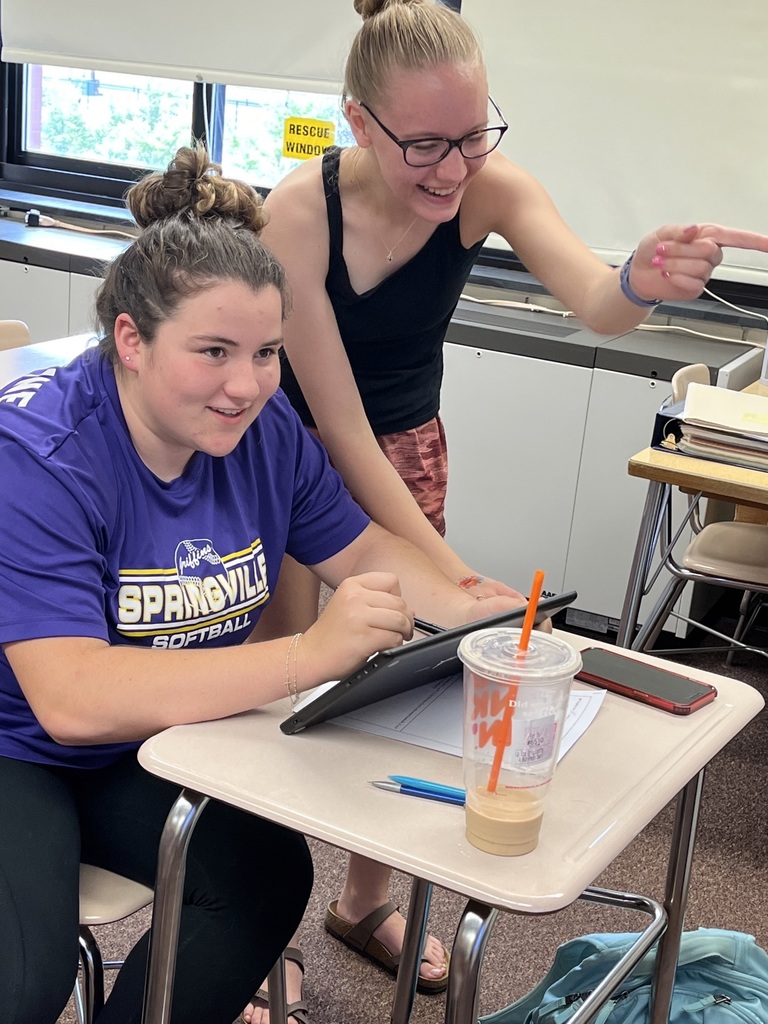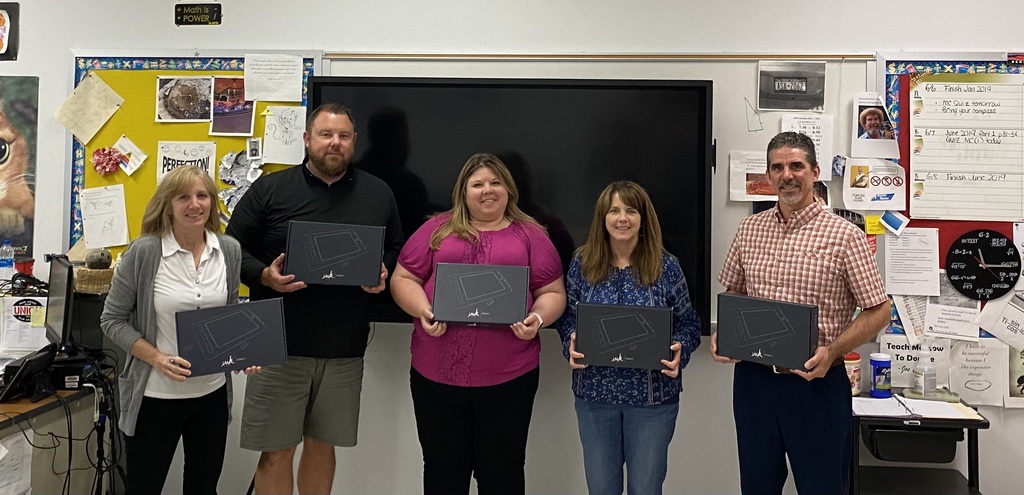 Colden Elementary applied for and was awarded $12,000 through the Creating Healthy Schools and Communities grant. With the grant funds, a .24 mile loop with a single track will be built around the back of the school and through the woods. With the grant money, CES was able to purchase 450 tons of gravel, six youth bikes, one adult bike and 18 helmets. Along with the grant, the CES Wellness Committee hosted fundraisers to be used toward the trail, with the ultimate goal of having the trail eventually paved. The Western New York Mountain Bike Association will assist in the trail's construction. A groundbreaking ceremony was held on June 17. Thank you to our community for your continued support!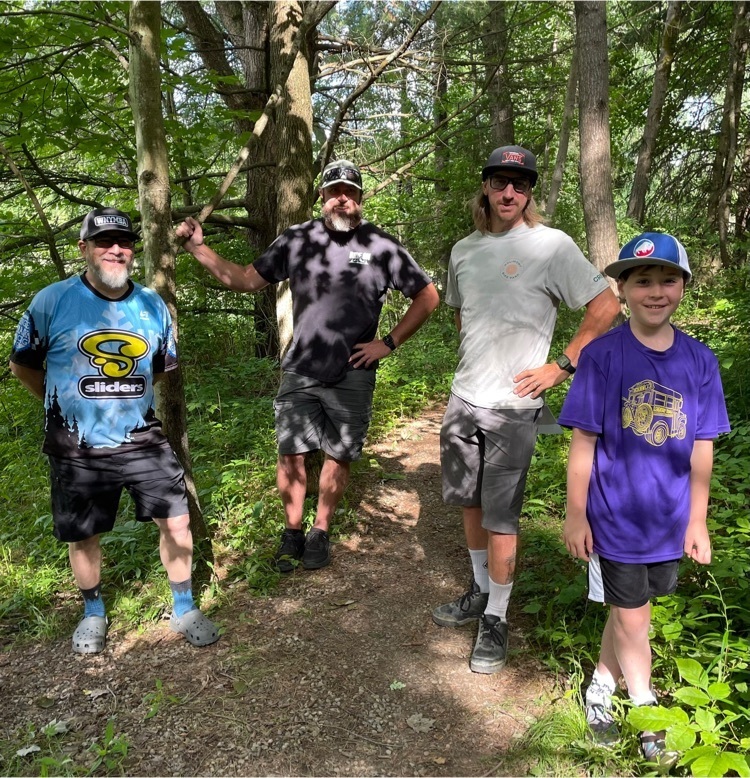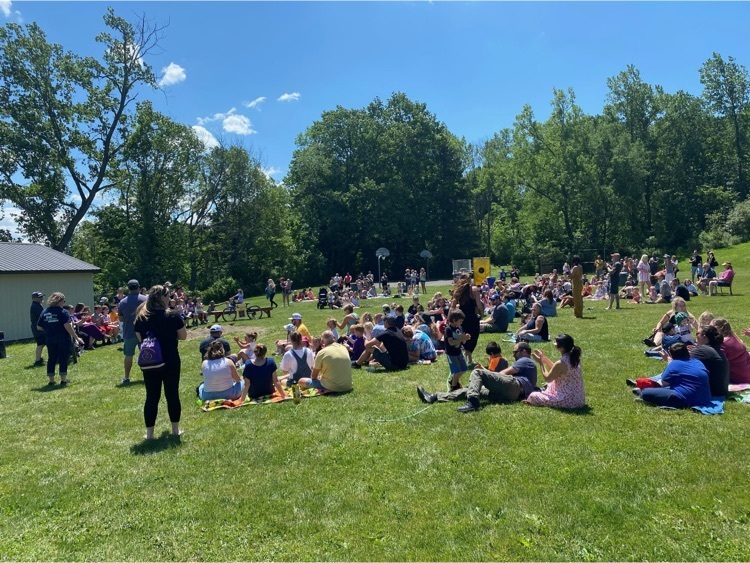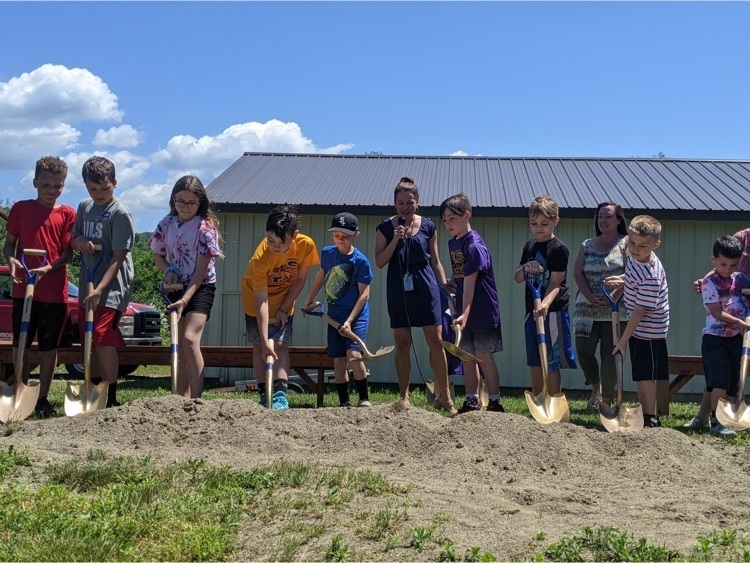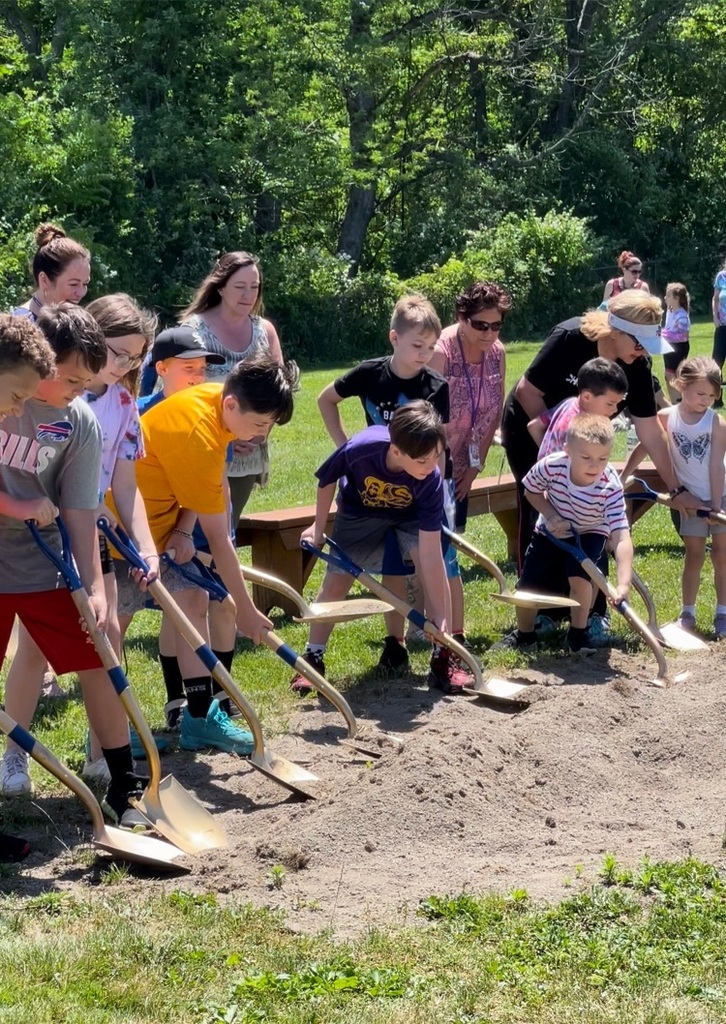 SGI HS is seeking a NYS licensed RN to serve as School Nurse. Work year is the same as teachers; health insurance and benefits available. Send a cover letter and resume via email to Joseph DeMartino, asst. HS principal at
jdemartino@springvillegi.org
by JULY 13. #SGIStrong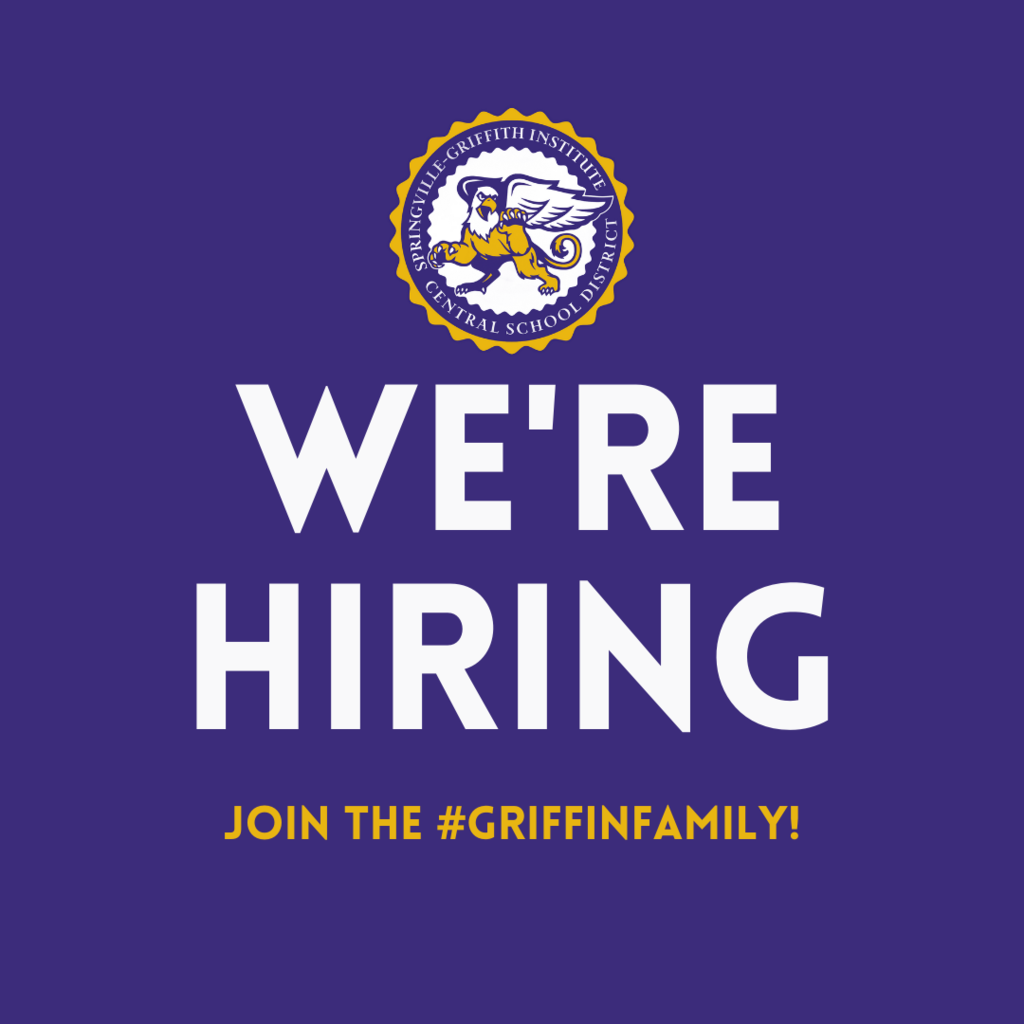 SGI Buildings & Grounds Director Dave Seiflein presented staff member Jacob Riter with the district's 2022 Employee of the Year Award during last week's Staff Recognition breakfast! More:
https://www.springvillegi.org/article/771522
#RedefiningRural #SGIStrong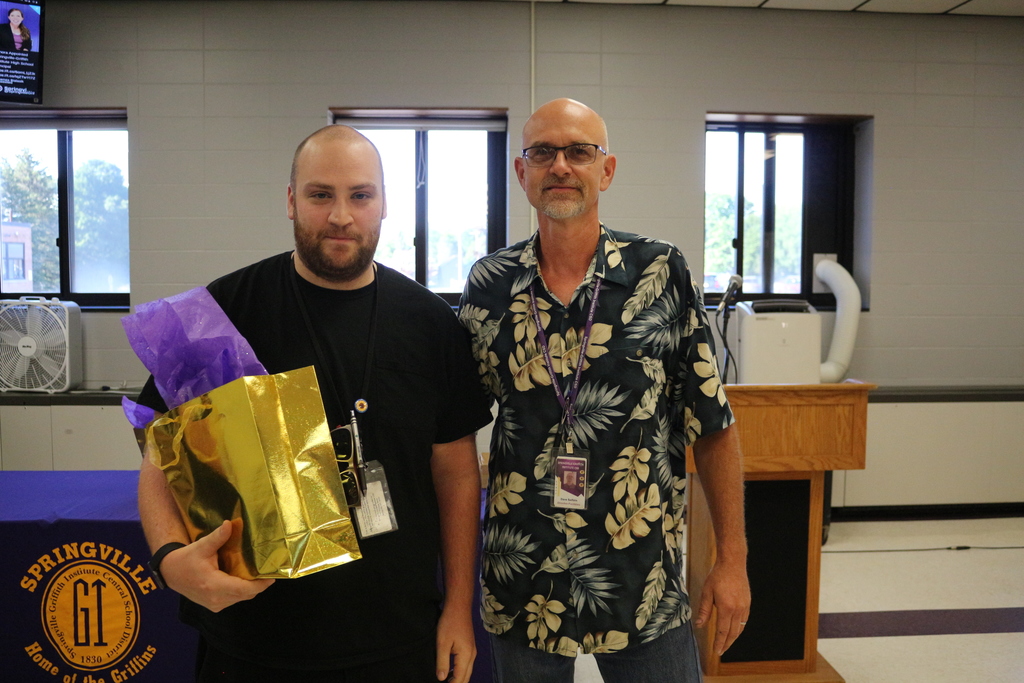 #SGI was proud to welcome home Kate Riffee, '76 to deliver the keynote address at Saturday's Commencement. Kate retired from Ohio State in 2015 after 35 years of service, most of which in Student Athlete Support Services. MORE:
https://www.springvillegi.org/article/771974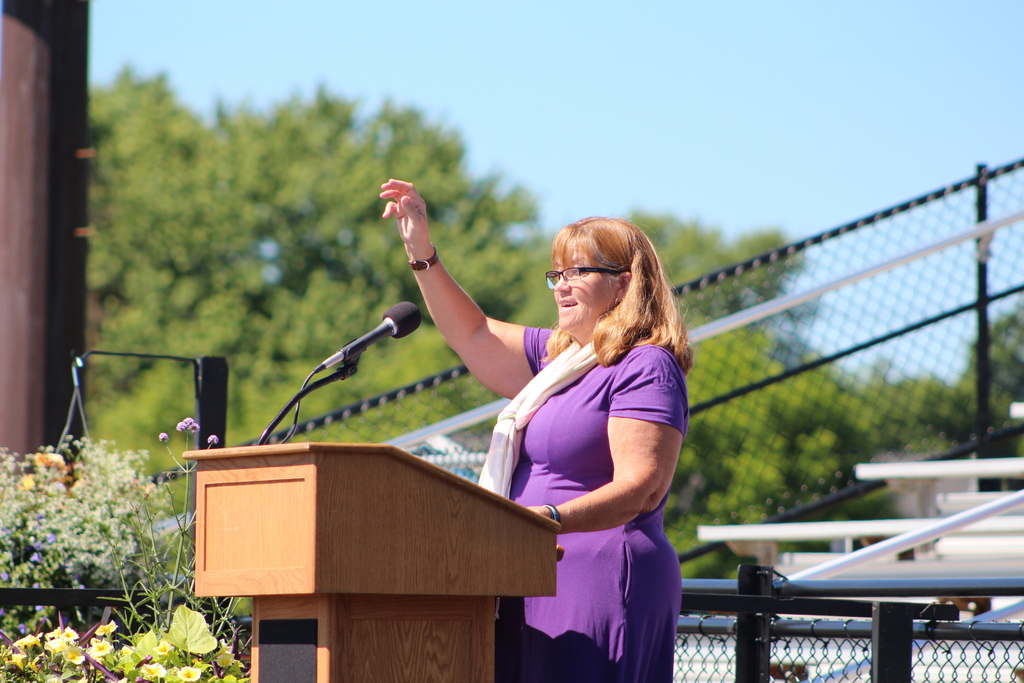 SGI recently honored its employees during the Staff Recognition Ceremony. Congratulations to SMS 6th grade teacher Carla Roetzer on being honored as the 2022 Teacher of the Year! More:
https://www.springvillegi.org/article/771522
#SGIStrong #RedefiningRural #SGIStrong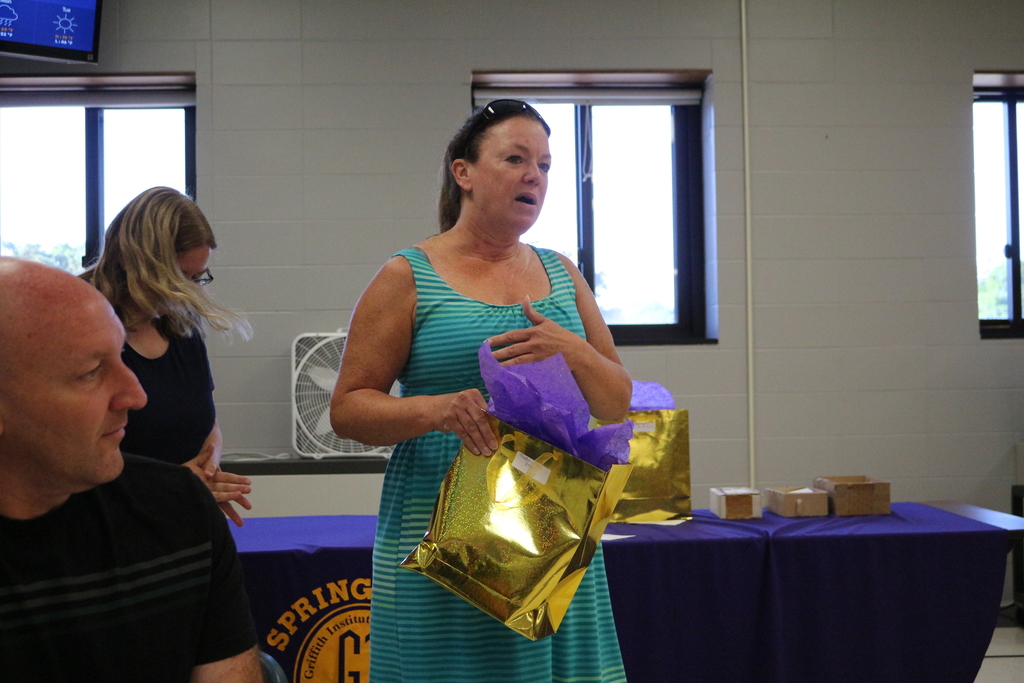 The sign says it so it must be true: SUMMER is HERE! Have a wonderful summer, SGI! We'll see you in September! #RedefiningRural #SGIStrong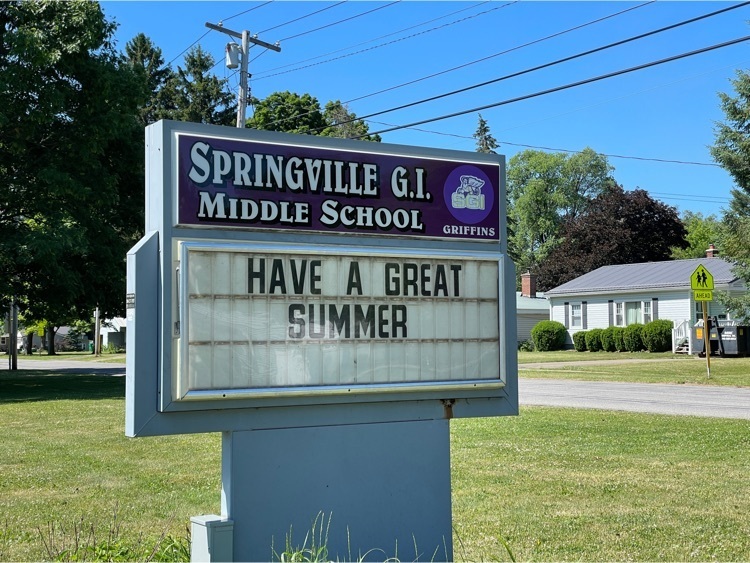 Retirees Sherry Bligh, Judy Bohrer, Ed Golabek, Tina Kwiatkowski, Diane McWhirter, Kathy Piatko, Bob Thurber, Kathy Townsend, & Tim Ulinger were honored during Staff Recognition today. Congratulations & THANK YOU for your service!
https://www.springvillegi.org/article/771522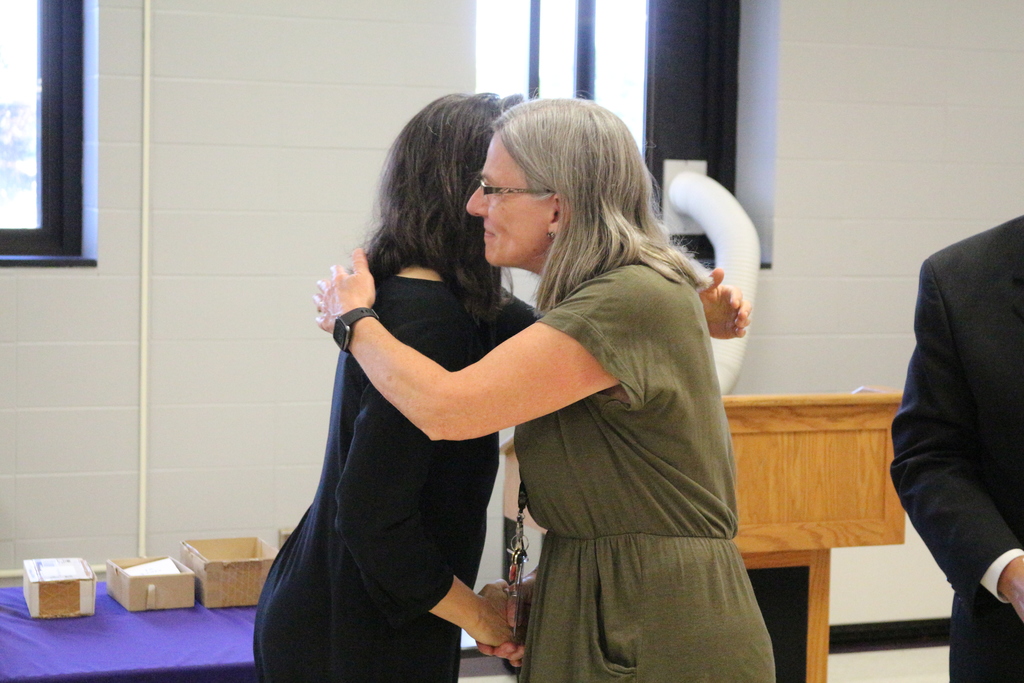 We conclude our Countdown with Austin Yetter, valedictorian of the SGI Class of 2022. Austin is son of Robert & Terri Yetter. He will attend the University at Buffalo to study Biomedical Engineering. Congratulations to our graduating seniors! #RedefiningRural #ClassOf2022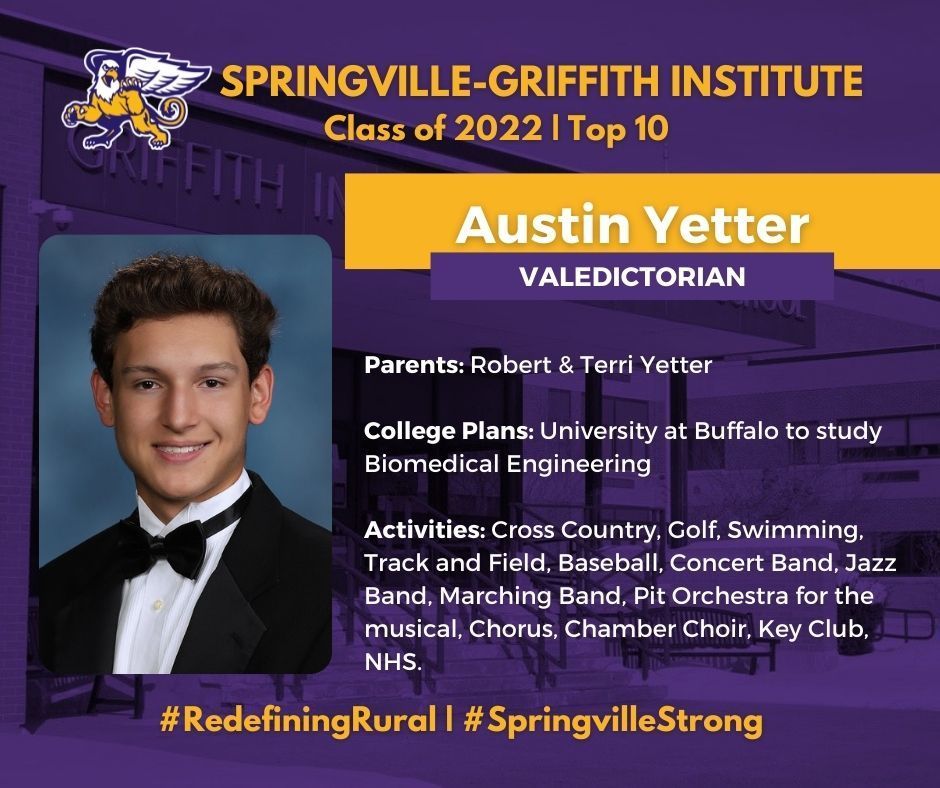 Our countdown continues with Megan Schneider, salutatorian of the Springville-Griffith Institute Class of 2022. Megan is the daughter of William and Andrea Schneider. She will attend D'Youville University to study Occupational Therapy. #RedefiningRural #ClassOf2022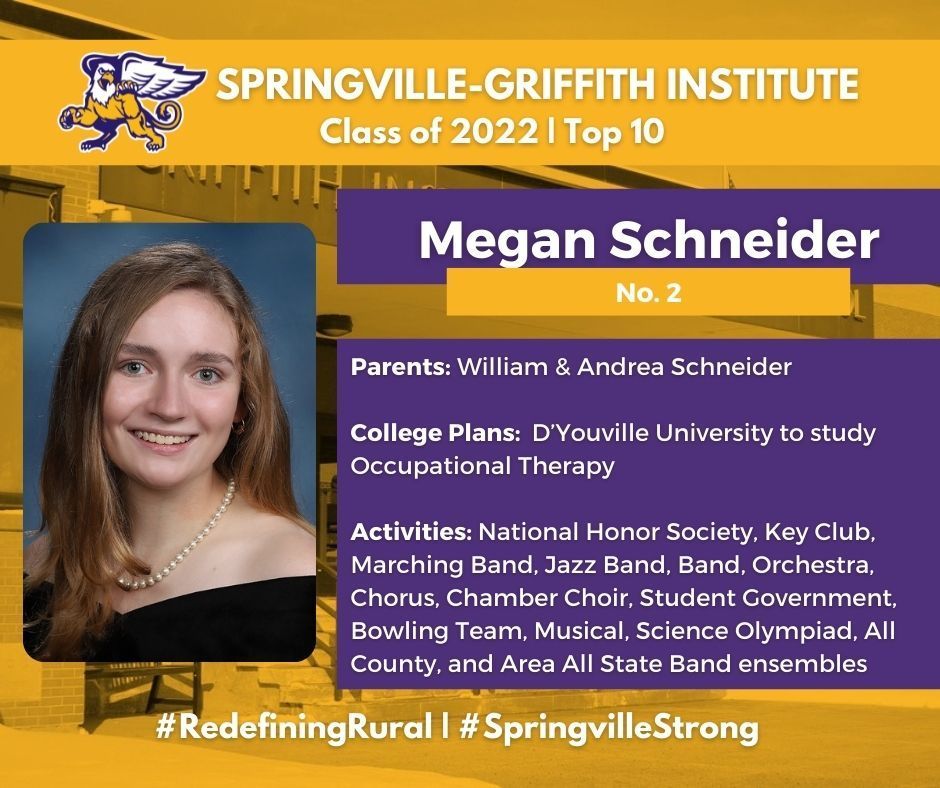 SENIOR-TO-SENIOR: Ahead of their graduation this weekend, senior citizens from the Jennie B. Richmond Nursing Home made a card for every Class of 2022 Senior with friendly advice for the students as they complete their time at SGI! What a wonderful gesture! #RedefiningRural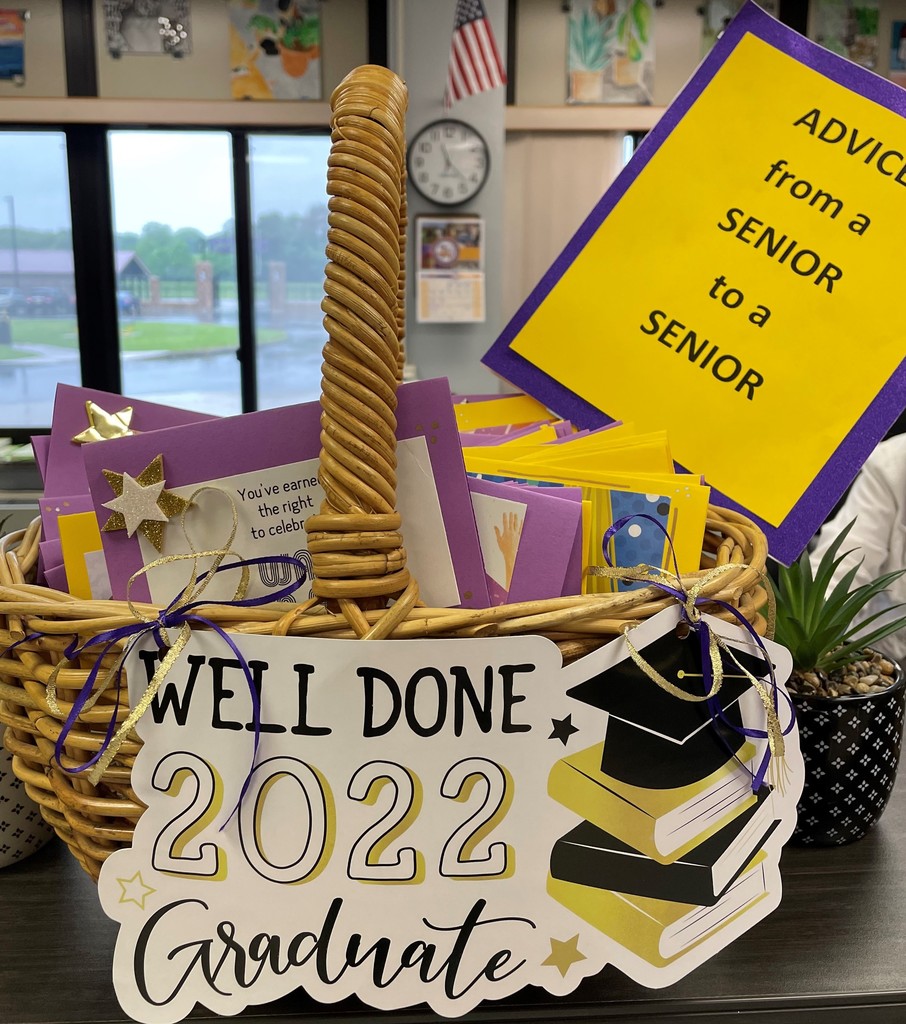 We continue our Class of 2022 Top 10 Countdown with No. 3, Abigail Fruehauf. Abigail is the daughter of Karl and Robin Fruehauf and will attend Gannon University next fall. #RedefiningRural #SGIStrong #ClassOf2022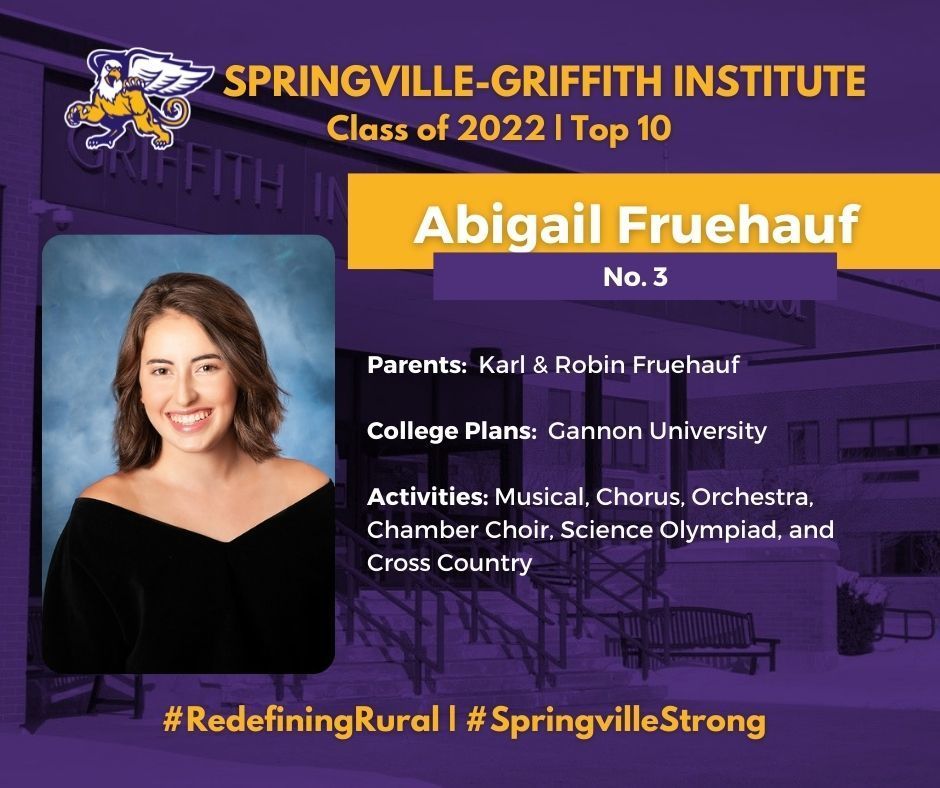 Our Class of 2022 Top 10 Countdown continues with No. 4, Marinna Heichberger. Marinna is the daughter of Mark and Gretchen Heichberger. She will attend RIT to major in Science Exploration, where she will be a member of the Track and Field team. #RedefiningRural #ClassOf2022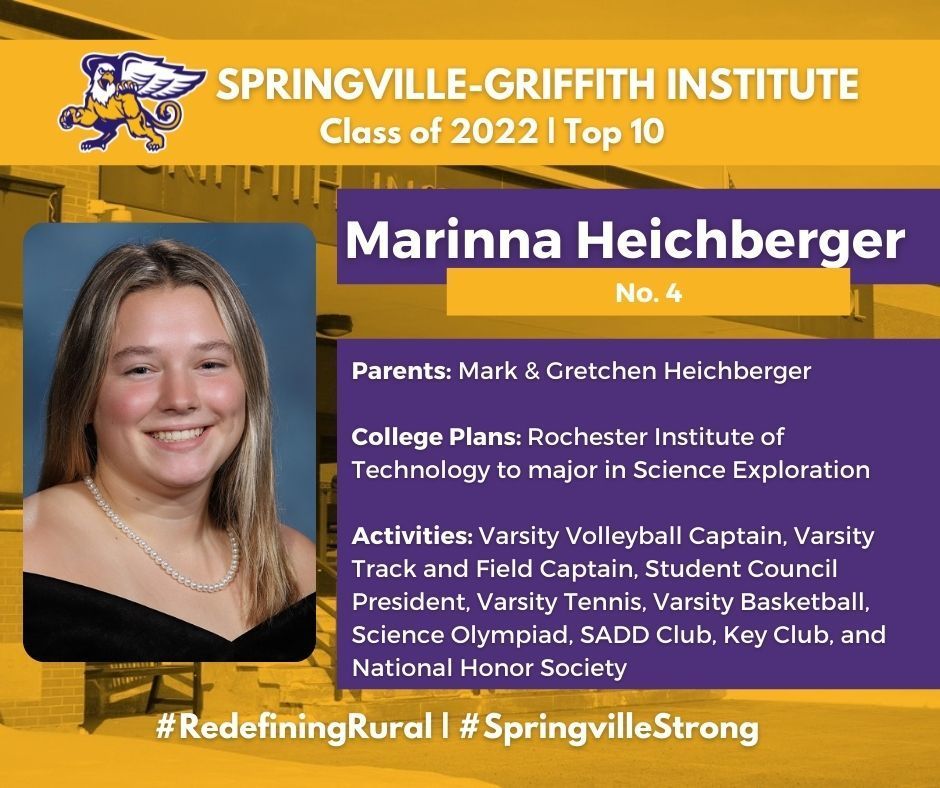 It's Graduation Week! We continue our Class of 2022 Countdown with No. 5, Scott Russell, the son of Chad and Jill Russell. Scott will attend the University at Buffalo's Honor College to study Biomedical Engineering this fall. #RedefiningRural #ClassOf2022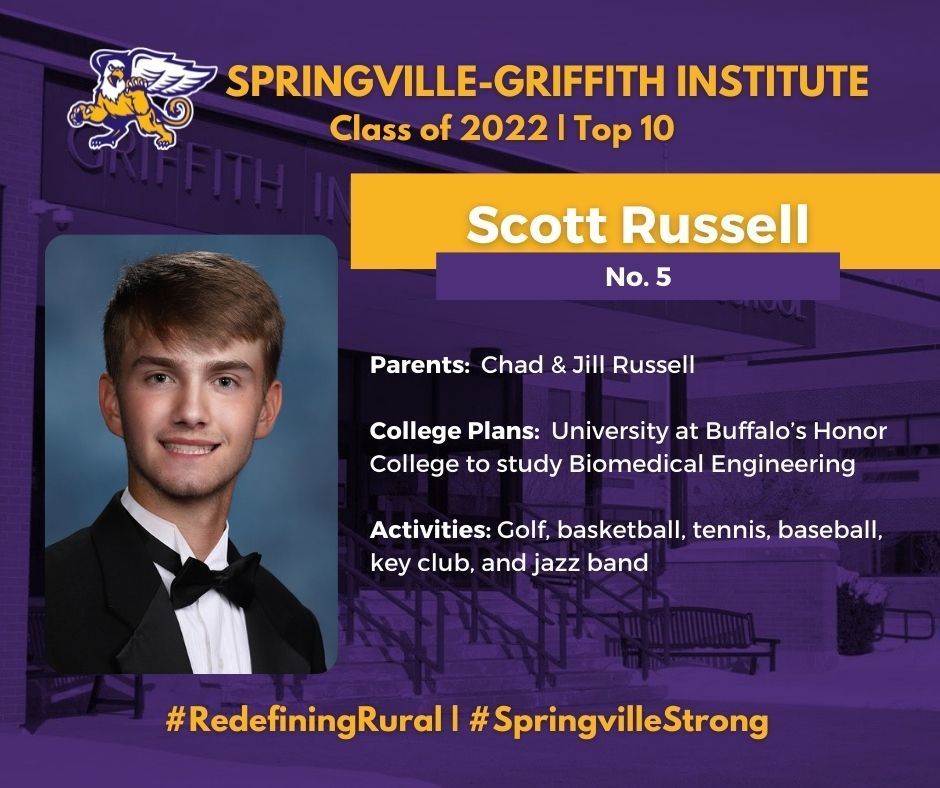 SGI is so proud of social studies teacher and 2020 National Teachers Hall of Fame inductee, Andrew Beiter! Mr. Beiter's induction ceremony takes place this evening in Emporia, Kansas and will be live streamed at 8:15 p.m. Visit
www.emporia.edu/live
to watch! 🌎 #SGIStrong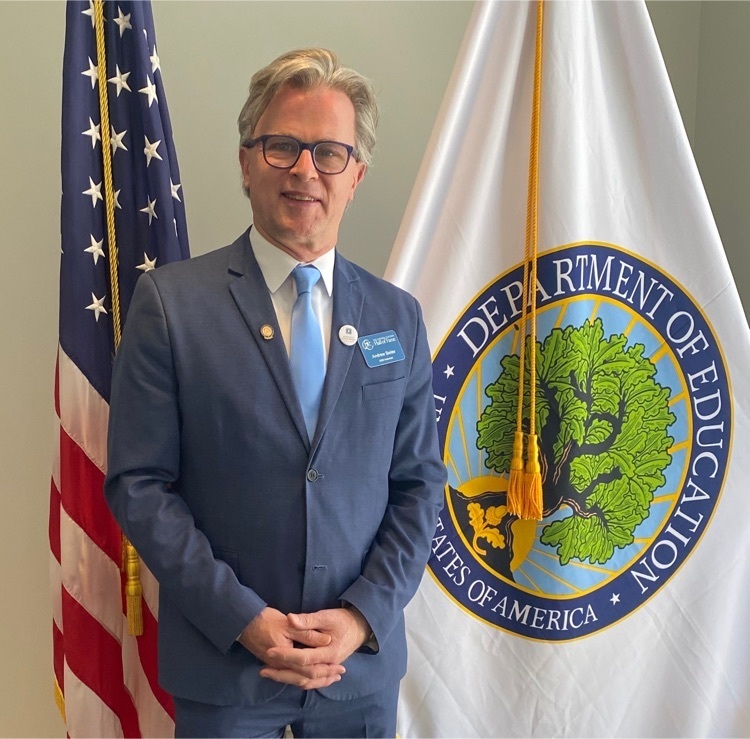 We continue our celebration of the SGI Class of 2022 Top 10 with No. 6, Jessica Nguyen. Jessica Nguyen is the daughter of Kai Lai Zhang and Hua Mei Chen and will attend Rochester Institute of Technology to study Computer Science next fall! #RedefiningRural #ClassOf2022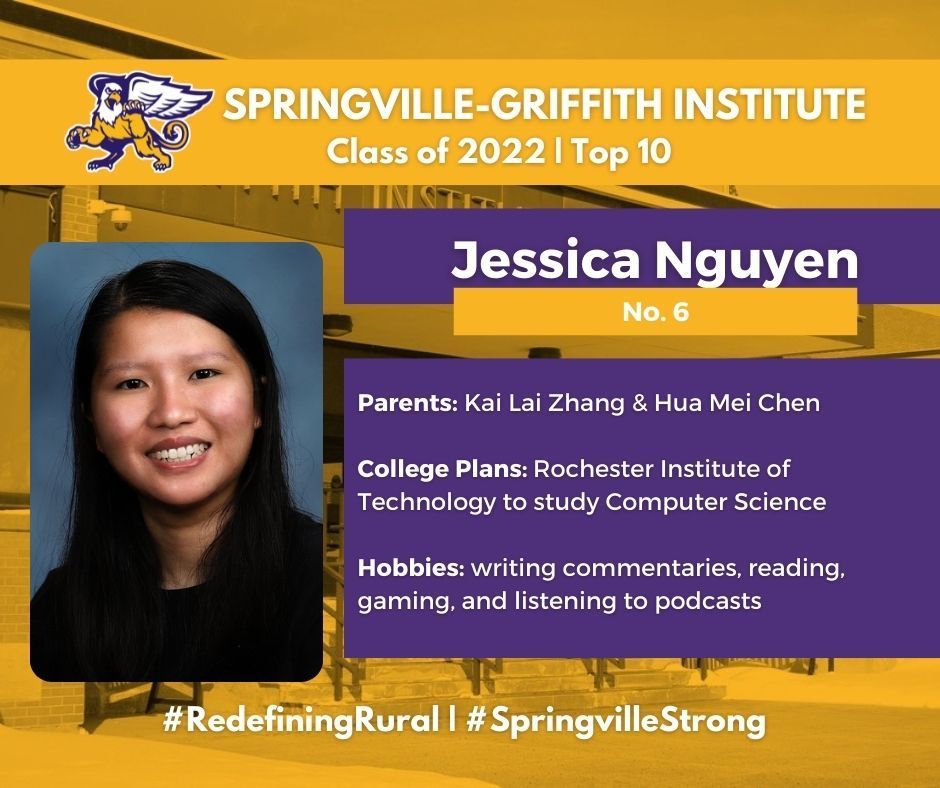 We continue our celebration of the SGI Class of 2022 Top 10 with No. 7, Brett Blesy! The son of Nathan and Barbara Blesy, he will attend Cornell University to study Dairy Science and Management this fall. #ClassOf2022 #RedefiningRural #SGIStrong